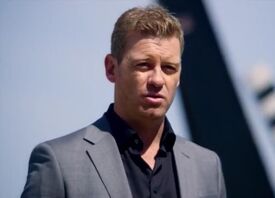 Ryan McQuaid
is a former Navy SEAL who founded McQuaid Security, a private security firm. He was introduced in season five. He is currently
Arthur Campbell
's employer.
Annie and Ryan first met during Shady Lane. He was the former employer of the person of Altan Borz. During their first meeting, he immediately took a liking in Annie and offered her a job in his company, McQuaid Security.
During False Skorpion, he saved Annie from another episode and he is the second to know about Annie's heart condition.
In Embassy Row, he attended a party to buy Russian helicopters and met Annie again. He followed her and saved her from Ivan Kravec.
During Brink of the Clouds, he and Annie worked together again and traveled to Azerbaijan to locate a rogue former CIA agent Nathan Meuller. He helped Annie from another episode. At the end of the episode, he comforted Annie about what Meuller had said.
In Grounded, he helped Annie, even risking loosing $100K. He took her to his helicopter but they found Bennett is dead, hit by a car. at the end of the episode, he and Annie spent the night drinking and talking. By the morning, they kissed but was disturbed by the doorbell. through the glass, Annie saw that the man Bennett accused of following him was an his acquaintance. She started doubting his innocence.
During Spit on a Stranger, Annie handed Joan her resignation letter and accepted the job he offered during Shady Lane. He introduced her to the entire staff of the McQuaid Security. With Auggie's help, Annie was able to take informations regarding his former agents that are part of an organization named "Flint". Annie investigates a deserted factory and found out that it was where the Chicago bombing was planned. Calder and Joan ordered to have him arrested. That night he went to Annie, where she held him at a gun point, he made her choose; either shoot him right there and then or let him go. Annie chooses the latter.
In Sensitive Euro Man, Annie helped him clear his name and find proof that Caitlyn was the mole in his company. During the stay at his safe house, they shared a romantic night before sending a flare to Caitlyn. Caitlyn send three men to have them killed. They found out that someone is trying to set him up for a bigger plan.
Community content is available under
CC-BY-SA
unless otherwise noted.