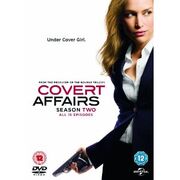 The show was renewed for a second season on August 19, 2010.[1] Production began in March 2011,[25] and the season premiered on June 7, 2011. Ben Lawson appeared in several episodes as Dr. Scott Weiss, a physician at a local emergency room. Rena Sofer appeared in multiple episodes as Gina, Arthur Campbell's ex-wife. Jaimie Alexander portrayed Reva Kline, a former analyst who begins working in the field, in various episodes throughout the season. Oded Fehr reprised his role as Eyal Lavin, a Mossad agent, in two episodes. Additional guest stars included Santiago Cabrera, Tim Guinee, Rebecca Mader, Benito Martinez, and Peter Stormare. The first half of the season, consisting of 10 episodes, concluded on August 9, 2011, while the remaining six episodes began airing on November 1, 2011. All Season 2 episode titles are also titles of songs by R.E.M.[13]
Series
#
Season
#
Title
Directed by
Written by
Original air date
Production
code
U.S. viewers
(million)
12
1
"Begin the Begin"
Kate Woods
Matt Corman & Chris Ord
June 7, 2011

(2011-06-07)

CA201
4.56[21
Ben and Annie return to Washington D.C., where Ben disappears again. However, Annie is quickly assigned another mission when she has to protect an Estonian tennis player (Marija Karan) who is considered a CIA asset but who claims to want to end her connection. Working on her own after the mission is terminated, Annie learns that the tennis player's new coach is a Russian agent, and both she and her boyfriend need to be rescued before the Russians eliminate them.
13
2
"Good Advices"
Ken Girotti
Stephen Hootstein
June 14, 2011

(2011-06-14)

CA202
3.92[22]
While trying to win over a secretary working at the Syrian embassy in Paris into an CIA asset, Annie crosses paths with an old acquaintance, Mossad agent Eyal Lavin (Oded Fehr), who also tries to gain the secretary as an asset. After the secretary is murdered, Annie uses the information they have already received to photograph an international terrorist, with Eyal's help, and then has to save Eyal, who is kidnapped by Syrians at the end of the mission along with the photograph.
14
3
"Bang and Blame"
Allan Kroeker
Erica Shelton
June 21, 2011

(2011-06-21)

CA203
4.03[23]
Annie befriends Dr. Scott Weiss (Ben Lawson) while taking her niece to the emergency room but then is sent back to Camp Peary ("The Farm") after the name of a CIA trainee is leaked in a pet-care chatroom that serves as a front for the Iranians. Although the CIA suspects that a trainer (Tim Guinee) at The Farm is the leak, he convinces Annie of his innocence. She then identifies and captures the actual leak, who is a fellow student with family CIA connections, while finally graduating from The Farm.
15
4
"All the Right Friends"
Stephen Kay
Norman Morrill
June 28, 2011

(2011-06-28)

CA204
4.01[24
While on a seemingly safe "spy trade" mission in Argentina, Annie and an Italian spy (Ignacio Serricchio) must go on the run after an attempt is made on their lives by an assassin at the exchange point. Annie ultimately concludes that her fellow spy is actually a reporter being targeted for having uncovered (but not yet published) details of a petroleum scandal, but she has to avoid capture by the local police while finding a way out of the country for both of them. Meanwhile, Auggie is offered a new, senior position in the Office of Congressional Affairs and accepts, despite the fact that he will have to become "overt".
16
5
"Around the Sun"
Félix Alcalá
Dana Calvo
July 5, 2011

(2011-07-05)

CA205
4.81[25
During a mission looking into a potential leak at NASA that could threaten the U.S.'s spy satellites, Annie has to get used to working with a new tech operative, Reva (Jaimie Alexander), after Auggie takes the OCA position. After Reva and the DPD conclude that Annie has identified the leak and that the mission is over, Annie concludes that the leak is actually covering for his son and manages to avert a larger leak. Despite doing well on his first assignment, Auggie decides to maintain covert cover and reverses his decision about OCA.
17
6
"The Outsiders"
Marc Roskin
Julia Ruchman
July 12, 2011

(2011-07-12)

CA206
4.30[26
Annie and Reva are captured near the Polish-Belarusian border by a man (Peter Stormare) working for the Belarussian secret police when they try to deploy anti-smuggling surveillance cameras in the Bialowieza Forest. Jai, who is interviewing for a new job in Berlin, is tasked with assembling an extraction team to rescue them in Belarus, a task which becomes more difficult when his helicopter malfunctions, followed by Annie and Reva escaping with the secret police on their tail.
18
7
"Half a World Away"
Félix Alcalá
Julia Ruchman
July 19, 2011

(2011-07-19)

CA207
4.55[27]
While on his vacation to the international jazz festival in Istanbul, Auggie inadvertently records the voice of the man who set up his squad for ambush and injured him during the war in Iraq. Auggie is aided by a flight attendant (Rebecca Mader) in his new, personal mission: identifying and ultimately capturing the man. Annie later learns the whole story of Auggie's blinding.
19
8
"Welcome to the Occupation"
John Fawcett
Zak Schwartz
July 26, 2011

(2011-07-26)

CA208
4.36[28]
Joan receives a distress text message from her old partner (Sonya Salomaa), who is in deep cover as an oil executive in Central America. She goes back into the field with Annie and Ben to rescue her by posing as a television crew to investigate a hostage situation in a corporate skyscraper that has been taken over by eco-terrorists in Mexico City. Meanwhile, Jai learns of his father's (Gregory Itzin) link to Liza Hearn (Emmanuelle Vaugier).
20
9
"Sad Professor"
J. Miller Tobin
Alex Berger
August 2, 2011

(2011-08-02)

CA209
4.61[29]
When Annie's former professor is killed by clandestine Pakistani operatives, she must inform the widow (Laara Sadiq) that he was a CIA operative and help finish his last mission. Also, Annie struggles with keeping her secret identity from her sister.
21
10
"World Leader Pretend"
Kate Woods
Matt Corman & Chris Ord
August 9, 2011

(2011-08-09)

CA210
4.70[30]
While Annie runs an extraction mission of a Chinese scientist she's been corresponding with who is willing to defect, she runs into complications and is forced to make a difficult choice when they both seem to have been poisoned with polonium. A friend of the scientist at the Asian Cultural Organization is the prime suspect when Annie discovers he may be a spy for the PLA special forces. Meanwhile, Joan transfers Jai to a new division in Arizona, and after two years, Annie finally tells Danielle her CIA secret, leading her sister to distrust her and ask Annie to move out.
22
11
"The Wake-Up Bomb"
Stephen Kay
Stephen Hootstein
November 1, 2011

(2011-11-01)

CA211
2.70[31]
After failing a mission in Venice, Annie feels lonely during some time off and meets a chef (Santiago Cabrera) with connections to the ETA, a Basque separatist movement, through his brother.
23
12
"Uberlin"
Jonathan Glassner
Erica Shelton
November 8, 2011

(2011-11-08)

CA212
2.67[32]
While on assignment in Berlin, Annie tries to turn a former Stasi agent and money launderer's wife (Nina Kronjager) into a CIA asset while tracking down her husband and simultaneously keeping tabs on Arthur, who meets with his old flame.
24
13
"A Girl Like You"
Stephen Kay
Norman Morrill
November 15, 2011

(2011-11-15)

CA213
2.26[33]
Mossad agent Eyal Lavin (Oded Fehr) returns to Washington D.C. posing as an operative of the CIA, and Annie is tasked with tracking him down and uncovering his real motives.
25
14
"Horse to Water"
Rosemary Rodriguez
Alex Berger
November 22, 2011

(2011-11-22)

CA214
2.29[34]
After the murder of an asset in Russia, Annie must consider the possibility that the daughter of a CIA analyst, imprisoned for selling intelligence, is involved with her father's plan and has to keep an eye on her.
26
15
"What's the Frequency, Kenneth?"
Omar Madha
Donald Joh
November 29, 2011

(2011-11-29)

CA215
3.22[35]
An MI6 operative (Tony Curran) mistakes Annie for an actual Smithsonian employee and attempts to recruit her for a covert op he bases on a hunch about a "dodgy" art restorer at the museum.
27
16
"Letter Never Sent"
Allan Kroeker
Matt Corman & Chris Ord
December 6, 2011

(2011-12-06)

CA216
3.20[36]
When Annie and Danielle go vacationing in Stockholm, Sweden, it turns dangerous when Danielle is mistaken for a spy. Jai Wilcox reveals his plans to Arthur, after having triggered a somewhat unexpected situation. His father Henry Wilcox ends up being denounced as the source leaking confidential information to journalist Liza Hearn.