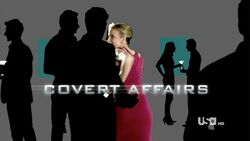 Could there be a crossover between White Collar and Covert Affairs, the two popular USA summer shows? Apparently, there could! The two stars of the hit summer series, Matt Bomer and Piper Perabo expressed interest, according to Digital Spy:
"I keep trying to get them to write a crossover!" said Perabo, who stars as CIA agent Annie Walker on Covert Affairs. "It's going to happen," insisted White Collar's Bomer, who plays Neal Caffrey.
Considering how both revolve around the spy genre, perhaps it's not such a strange idea...Neal Caffrey and Annie Walker would make a stellar team! Both shows will premiere tomorrow on USA at 8/9c and 9/10c so be sure to catch them!
Kate.moon 21:47, June 6, 2011 (UTC)